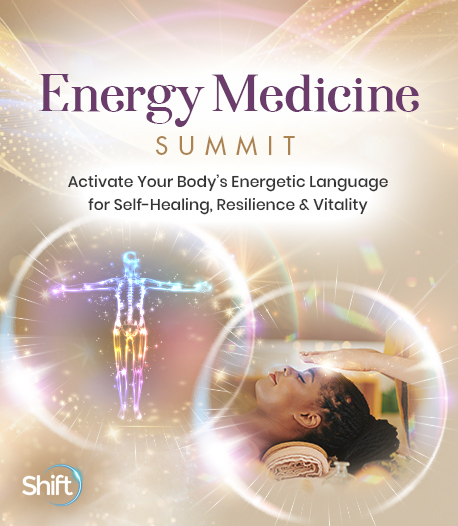 Program & Replays

Healing Ourselves: Biofield Science and the Future of Health
Broadcast on November 01, 2021
With Dr. Shamini Jain
Hosted by Dr. Christine Schaffner
Spontaneous remission, the placebo effect, and energy healing — these phenomena have baffled the medical community for decades. What do all these marvels tell us? Today more than ever, we realize that we must change the way we think about health care — and our ability to heal ourselves. Listen to Dr. Shamini Jain as she talks about biofield science and a new vision of health and healing.
In this session, you'll discover:
Leading-edge research in energy healing, and what it tells us about the power to heal ourselves and each other
How to use healing keys to up-level and foster health, longevity, and happiness in your healing process
Bioenergetic self-care practices that you can use to foster your own healing now
The opinions expressed here are those of the author/presenter and are not representative of Shift Network employees, customers, or other presenters.
Love this Speaker and What They Have to Say?
It can be yours to keep... forever.
Get lifetime access to the summit and bonus material by upgrading now!
UPGRADE HERE
Dr. Shamini Jain
Founder and CEO, Consciousness and Healing Initiative
Dr. Shamini Jain is a psychologist, scientist, and social entrepreneur. She is founder and CEO of the Consciousness and Healing Initiative (CHI), a nonprofit collaborative accelerator that connects scientists, health practitioners, educators, and artists to help lead humanity to heal ourselves. Shamini also serves as adjunct faculty at UC San Diego, where she is an active member of the UC San Diego Center for Integrative Medicine's Research Committee. Her book Healing Ourselves: Biofield Science and the Future of Health is available at booksellers worldwide.
CHI was formed through Shamini's deep desire to bring key stakeholders together to create a coherent and effective movement to move us beyond models of "disease thinking," into the age of whole-person healing, and personal and societal empowerment.
Shamini integrates her background in clinical psychology, psychoneuroimmunology, spiritual wisdom, and the healing arts to teach people how they can best heal themselves, to live life with joy and spiritual alignment.  She is a student of Reverend Rosalyn Bruyere in the healing arts, and a student of the Divine Feminine.
Shamini teaches regularly at leading retreat centers, including Esalen, Kripalu and the Art of Living Retreat Center. Her research has been featured in TIME, US News and World Report, on CNN, and in other news media. She shares research on the science and practice of healing in diverse venues, including NATO, TEDx, major universities and medical centers, health-related conferences, and corporations. She also serves as a board member and scientific advisor for several nonprofit and social benefit companies.